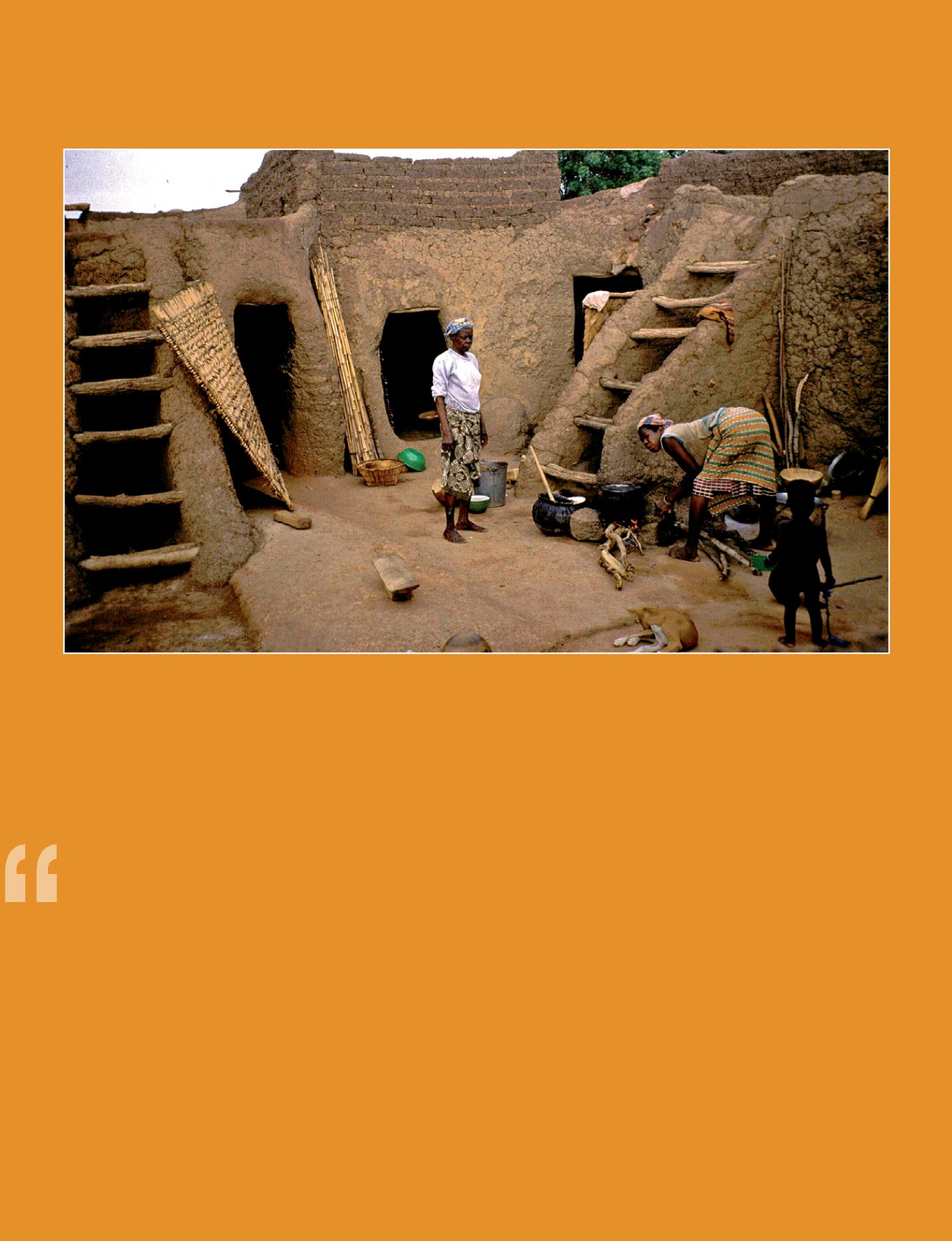 60 - Sustainable Development in Africa & Satellites
With the increase in intense rainy periods and over-exploitation of land, traditional architecture (here in the Houndé region in Burkina Faso), increasingly
expensive to maintain, is being abandoned and replaced by concrete and corrugated iron, much less appropriate for the high temperatures during the dry season
© Stéphan Dugast/Indigo/IRD
Fidel Yogo Adiguipiou has devoted
his retirement as a former agricultural
advisor, to the study of sustainable
development, particularly the impacts
of climate change in Burkina Faso, his
country.
Fidel, what triggered your involvement?
he first thing was in 1985; it rained on
9 November 1985. We had never seen
rain in November—our rainy season ends
on 15 October at the latest. The second
event was in January of the following
year: for several days there was reddish
dust above the country; it was opaque and
almost completely veiled the sun. At the
time, we attributed the phenomenon to the
passage of the Paris-Dakar rally! It is only
now that we are able to understand what
We could have seen these changes coming
but we carried on felling our trees as if
nothing were happening and the desert
continued to advance and now suddenly
there has been much more heat and much
more rain for three years. Whereas the
rainfall we know in this region of Burkina
Faso is from 800 to 1200 mm in the rainy
season from June to October, it was more
than 1600 mm in 2008, 2009 and again
in 2010. And the temperature in the dry
season is now often over 45°C in the shade!
But more precipitation does not mean that
the rainy season is longer—the rain is
increasingly intense. Precipitation from 15
August to 15 September last year was 400
to 500 mm—this used to be the total from
What is the most visible impact that is the
most tangible for the population?
Our traditional habitat is threatened!
Kassena dwellings are built entirely in sun
dried bricks. Even the roofs are built in
earth. They are very heavy and can collapse
suddenly when it rains too hard. I have to
rebuild my house every year, and last year
nearly died, crushed with my family. The
people of my village try to combine the
techniques of the Kassena and the Mossi,
who have thatched roofs, but this is difficult
in our culture as thatched dwellings are
reserved for bachelors and this isn't very
glorious for a family man…
The solution would be to use concrete
blocks. But this is much too expensive for
a Burkina Faso farmer: earth for building
is free while concrete blocks represent
months and even years of income for
a farmer! And as regards sustainable
development, the earth is right there while
cement and the transport of concrete
It has to be understood that our agriculture
is living on borrowed time. I was an advisor
before I retired. My job was to accompany
farmers in the use of modern farming
techniques. In 1976, yields in the region
for cereals as a whole were something
like 800 to 1200 kg per hectare, with an
extendable fertiliser formula. This is used
much more now and often accompanied by
manure, which is favourable for sustainable
development. But we still don't manage to
exceed 1200 kg per hectare. I don't really
know how to explain this but I can tell you
that a field under 50 cm of water from
August to September will not give you 1200